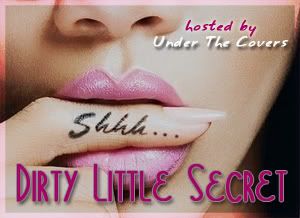 Dirty Little Secret is a weekly meme hosted by Under the Covers. Every Thursday they get to know other bloggers and readers more intimately by asking them a question hoping to reveal their dirty little secrets.
"We are approaching the Christmas and the New Year, but before embarking on 2012 tell us, what are your most shameful moments this year, and what are your most proud of?"
God, this whole year is one that I'm not especially proud of....Being crushed by the one I love, putting myself down, moping, coping in all the wrong ways. There is so much I would go back and change from this year. I would have been better to myself, I would have been stronger (but we cant go back). All that being said, I am proud of who I ended up being...I realized I deserved better, I started doing things for myself and I took time to just figure out who I am :) I also started this blog, and what do you know.....people actually give a rats ass what I think lol I have got to talk to so many great authors and bloggers over the past year! I love taking the time to become me, and this, above all, is what I am most proud of!