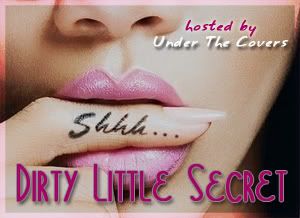 Dirty Little Secret
is a weekly meme hosted by
Under the Covers
where they get to know bloggers and readers more intimately by asking them a question hoping to reveal their dirty little secrets.
How do you go about reviewing 1 or 2 star books or books you didn't enjoy?
I normally have a format for reviews. Rating, My Synopsis, My thoughts, My Cover Rating, and lastly, Who I Recommend the book too! So, when I really don't like a book, I still stick with the same format but my heart just isn't in it. The review is never as long and I don't spend as much time on it in general.
I really hate when I read something I don't like because we, as book reviews, have a passion for books and respect all authors. So its hard when I have to put a bad review out there and basically bash something a person worked so hard on....never fun :(